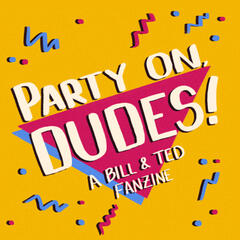 Party On, Dudes!
A Bill and Ted Fanzine

All proceeds will be donated to VH1's Save The Music Foundation
About
We are a most excellent non-profit zine inspired by two valley boys from San Dimas who are the best of friends: Bill S. Preston Esquire and Ted "Theodore" Logan! We are not affiliated with Bill and Ted as a property, this is purely a fanwork done for passion and for charity. All of this zine's proceeds will be donated to VH1's Save The Music Foundation.

VH1's Save The Music Foundation invests in schools, donating instruments and other equipment to jumpstart public school music programs. They also provide music teachers with professional development and other resources that they otherwise wouldn't be able to access. On top of that, they advocate for music education as a whole on local, state, and national levels! They've helped over 2,000 schools and impacted millions of children! We've chosen to support it because we believe nothing conveys Bill and Ted's belief in spreading musical excellence quite like bringing music to kids who wouldn't normally get to have these programs! Check out their website here!

This will be a safe-for-work (SFW) zine in print and will contain both artwork and written fanfiction. This zine will be all-English.

Check out the FAQ for more info!
Frequently Asked Questions
Q: What is a Fanzine?

A: A Fanzine (pronounced ZEEN) by definition is a magazine, usually produced by amateurs, for fans of a particular performer, group, or form of entertainment. It can be in either print form or pdf. Our zine will be available in both forms and likely have an option to purchase additional merch such as prints and stickers as well!

Q: How many artists will be accepted into the zine?

A: As of right now, we are planning to accept around 35-40 artists for the zine. 17-20 will be accepted into the 18+ NSFW Digital Black Book.

Q: How many writers will be accepted into the zine?

A: As of right now, we are planning to accept maximum 8 writers for the zine. 4 writers for the Black Book.

Q: Is there a minimum age requirement to apply for the zine?

A: Yes! You must be 16+ to apply for the zine and 18+ to apply for the NSFW Black Book.

Q: Can art be previously made or does it have to be done specifically for the zine?

A: It cannot be something previously made! Art must be done specifically for the zine.

Q: Are there page limits for artists?

A: You can apply to do anywhere between 1 and 3 pages but you will be informed in an acceptance email with how many pages we would like from you. 2 pages will likely be spread illustrations or comics and 3 will pretty much just be for comics. If you intend to apply for more than one page, you definitely need a typed out pitch in the "Do you have an idea of what you'd like to do?" question on the application!

Q: How long will each written fanfiction be?

A: Stories will vary between 500 - 5000 words!

Q: Are collaborations allowed between artists and writers?

A: Yes! There are places to make it known that you're co-applying with a writer/artist on the application.

Q: Can I apply as both a writer and an artist to illustrate for my own story?

A: Also yes! There's no guarantee you'll be accepted for both positions, but if your pitch is convincing then it can happen!

Q: Can I apply or more than one position?

A: Yes! If you're of age and choose to do so, you can apply for every position in every part of the zine.

Q: Do I have to have/use Discord to be in this zine?

A: It is very helpful as a form of organized and efficient contact, but you are not required to have Discord for this zine! If you do not, then you will be expected to be responsive via email since that will be the main way we are able to communicate with you.

Q: Is there a separate Discord for the NSFW Black Book and the zine?

A: Yes. In order to have a strict separation between minors and any adult content, there are two separate servers. If you are chosen to be in both, you will receive links to be in both servers. There will also be separate submission folders and minors will not be given access to the black book upon completion until they turn 18 and can provide proof.

Q: Do contributors have to pay for their zine?

A: Just shipping! And for the extras in the bundle if they decide they want a bundle. All contributors should get a free physical and digital zine!

Q: When is the zine's estimated release/shipping?

A: As of right now, late May-June 2021! It takes a while to put together projects like this!

Q: How much will the zine cost?

A: Physical zines will likely be about $20 and digital zines about $15. Bundles estimated $30-$40 depending on what merch and how much merch is in each! The price of the Black Book has not yet been determined.

Q: Which movie is this zine for?

A: All three Bill and Ted movies! Excellent Adventure, Bogus Journey, and Face The Music are all good! It's also alright for pieces to relate to the cartoon and comics!

Q: Is art of Billie and Thea alright?

A: As long as Bill and Ted are in the piece, other characters are welcome. So yes!

Q: Is shippy art alright?

A: Yes! It can get pretty spicy in the black book, but in the zine it should only be sweet and reasonably innocent if portrayed (ie. gentle kisses and handholding are fine, but passionate makeouts and anything farther would be more suited for the 18+ book).

Q: Can we draw crossovers with other fandoms?

A: No crossovers please! This zine and black book will be contained to the Bill and Ted-verse.

Q: What kind of merch is planned?

A: We have no solid decisions made yet as we want to collaborate with who we select to be merch artists to make a final decision. There will probably be mini prints and stickers, though.
Please read the about and
faq tabs before applying! Fill-in applications open until jan 31.
Fill-In Positions You can apply for:
Schedule
Interest Check Open: October 16

Interest Check Close: October 31

Applications Open: Sunday, November 15

Applications Close: Tuesday, December 15

Fill in Artist/Writer Applications: Wednesday, December 16 - Sunday, January 31

Application Results Sent: Saturday, December 19 - Monday, December 21

Discord Link Sent to Confirmed Contributors: Monday, December 21

Final Ideas Determined: Sunday, December 27

Thumbnails Due: Sunday, January 3

First Check-In: Sunday, January 17

Second Check-In: Sunday, January 31

Final Art Deadline: Monday, February 15

Preorders Open: Sunday, March 7

Preorders Close: Wednesday, April 7

Digital Zine Release: Saturday, April 17

Production Period: April 7 - Early May

Shipping: Late May - June